Hello ladies,
I have BIG surprise for you, coming from my favorite online store, OASAP!
Since autumns has almost past and sunny days will be missed, I thought that I could make you all feel the winter warmth. So Santa might come a bit faster this year.OASAP.COM wants to cover you up with warmth by offering you the chance to win a cardigan!  One lucky winner will get to choose one of the three cardigans below!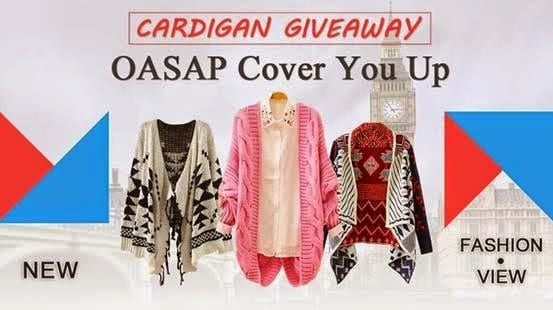 3. Fancy Open-Front Knit Cardigan:
HERE
So, here are the rules:
2. Share this post on Facebook
3.
Leave a comment with the email you used to registered on OASAP.COM, your Facebook share and tell me which cardigan you would like
to win (1,2 or 3).
Optional, if you want you can like my Facebook page
This giveaway lasts for 8 days, so it will end on the 28th of October! The winner will be selected via random.org and I will announce the name here, on my blog, and also on my Facebook page.
REMEMBER!!! In order for this giveaway to take place there have to be AT LEAST 50 SUBSCRIBERS,
so share this post as much as you can!
Good luck everyone!