Hello dear readers,
Because we are in December the month when everyone wants to make or receive presents, Firmoo wants to make you people smile with an awesome giveaway. So this giveaway will have not 1 or 2 not even 3 winners but 6. The first place will receive a free pair of glasses, sunglasses or eyeglasses it depend on what she/he needs. Worldwide free shipping for all 6 pairs. The second price consists in a 50% voucher for 5 pairs of
sunglasses or eyeglasses, and of course free shipping.
Very IMPORTNT !
The glasses have to be choose from the section:  Firmoo Classic Series.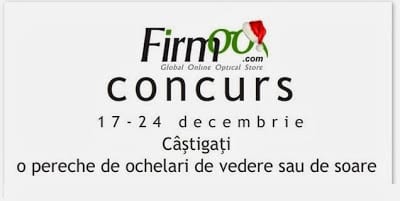 All you have to do is:
1. Like Color your life on Facebook or follow me on GFC.
2. Share this post on Facebook.
3. Leave a comment here or on Facebook page, with your favorite pair of glasses.
Sometime ago I received myself a very beautiful pair of glasses (here you can see it : I think it is french.)  from Firmoo that I really love very much. They have good quality glasses and the delivery is right at your door. Don't miss this great
opportunity.