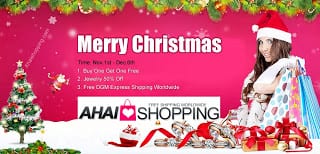 Hey there,
AHAI is an online awesome shop. You can find on their store almost everything you wish for, this Christmas. I was looking  trough their shop and some things really caught my attention, I'll let you know later about my favorite items. AhaIshop  have some good quality clothes, and I can say this because some time ago I won 3 shirts from an giveaway hold by them.
Christmas is here and AHAI is offering worldwide free shipping, also some great discounts. Make yourself a well deserved gift this year.  Visit  http://www.ahaishopping.com/ and see what fits your needs the best.
My wish list  :
Find it here  Rainbow woolen sweater
Find it here Cape slim coat
Find it here Double breasted lace
Find it here Retro Christmas sweater 
Find it here Snowflake apricot sweater
Find it here Deer plover
Find it here College style bag
So my dears take a good look at these wonderful things that Ahai online shop is offering, and after that choose the perfect Christmas gift for yourselves.